I love when Josh posts bulletins on myspace haha
From: Josh aka Coffee shop criminals

" My halloween costume is in fact the greatest costume ever. And completely my idea.
(really my roomate Kris' idea)



This tuesday Nov. 11th will be the greatest show ever in the history of Mankind. There will be naked women everywhere. Open bar. ...And ladies for you, there will be the men or man of your dreams!!! ( complete bullshit )

On a serious note Via Audio is hands down one of my favorite bands regional or national. And they will be playing new songs unreleased. THE FACTORY PARTY is one of the strongest bands to come out of Texas in a minute. Its been a tough year for those guys. They've broken up, gotten back together and agreed to play this show before they hit the studio to work on their new EP (this will be the last show this year for them). It will be at The Mink / Backroom Tuesday Nov. 11th. The Mink is located on the corner of Alabama and Main St. The Mckenzies will also be on the bill. Thier guitar solos will melt your fucking face off.


P.S.

The female vocalist for Via Audio is one of the most pretty girls ever.


Ohhh snap! The best dj in H-Town GRRL PARTS will be djing inbetween and after sets.
DANCE PARTY MUTHAFUCKAS!!!!

If you dont make it to this event... KILL YOURSELF ! "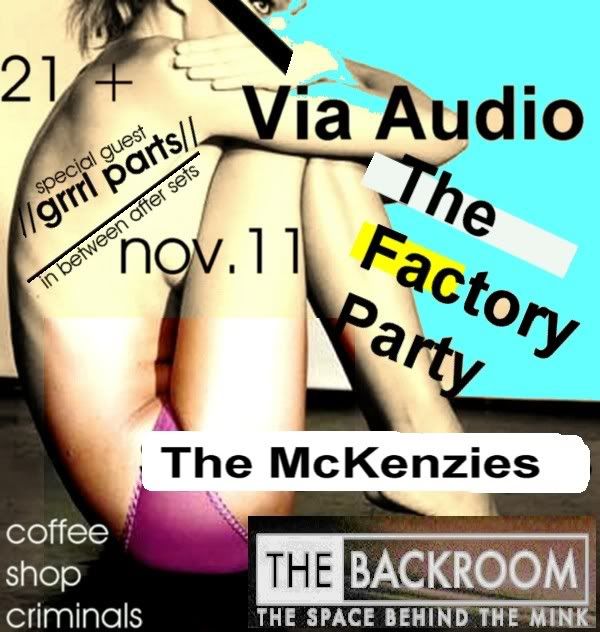 NOV 11
THE MINK/BACKROOM
COFFE SHOP CRIMINALS PRESENTS:
VIA AUDIO
THE MCKENZIES
THE FACTORY PARTY
GRRRL PARTS